Okay, its really called Southern Charm  and its world premiere is Monday night on the Bravo channel (Check local listings).  It stars rake, rouge and disgraced former state Treasurer Thomas Ravenel or as he's known these days. T-Rav.
Here's the promo for the show:
I will withhold my reflections and observations until the end.
I call T-Rav the star, but let's meet the others who so personify Old Charleston.
Like many of us who grew up in Charleston, we are wondering who the hell these other people are. Let's take a look, shall we?
According to the Bravo Website:
Craig Conover, 25, a native of Fenwick Island, Delaware, is a hyperactive mulit-tasker. As a third-yearlaw student and law clerk to a prominent personal injury firm, he still lives an active social life and prioritizes a work-life balance. With rarely any down time, one can find him either at work, the library, on the water or at a party enjoying everything Charleston has to offer.
Cameran was born and raised in South Carolina and think it's the greatest state in the country. She recently turned 30 and is embracing this new decade of her life with open arms. Cameran considers herself to be a modern Southern woman and enjoy all that Charleston has to offer. In her spare time she enjoys boating or laying on the beach with a good book. She just entered the world of real estate after ten years working in the cosmetic industry and is excited to see what is in store for the next chapter of her life.
Jenna King is a 28-year-old aspiring fashion designer, currently designing a line of fashion gloves (Hello, Michael Jackson!) and has an interest in a designer sunglass company. Growing up in rural Sumter, South Carolina, King was a country girl raised by her father, a retired military pilot in the Air Force for 20 years, and mother, a rescuer to orphan animals. Since her college graduation at Trident Technical College in North Charleston, King has lived in various big cities such as London, Los Angeles, New York City, and Miami. However, she has always considered Charleston home. King has always held a passion for animals, especially horses, as she's did barrel riding in the rodeo throughout high school. She continues her love of adventure and outdoors by snowboarding and flying with her dad.
Shep Rose grew up in Hilton Head Island where he cut his teeth on sports, troublemaking, and general tomfoolery. From there he attended boarding school in Virginia; it was here that he discovered The Grateful Dead and the exhaust feature on a window unit in a dorm room, which was a revelation at the time. He then took his innovative spirit to the University of Georgia; he spent five illustrious years in beautiful Athens, Georgia. Rules were broken, feelings weren't spared, late nights were attended, in all, there are too many stories to sift through to do his time there justice….
Whitney Sudler-Smith is a filmmaker, classically trained guitarist, and bon vivant. Having spent the last 17 years living and working in Los Angeles, Sudler-Smith has honed his special talents towards the dark side by composing brilliant screenplays and ingenious independent films that few will see; having directed the small films Going for Baroque and Afternoon Delight, Whitney went on to direct Bubba and Ike, the redneck buddy comedy that wowed audiences at the Austin Film Festival, and the TV pilot Torture TV, starring Danny Huston. Sudler-Smith's crowning achievement thus far has been directing the film Ultrasuede: In Search of Halston, about the infamous fashion designer and decadent '70s. The film has been distributed theatrically worldwide, and can be currently seen on Showtime. In his spare time, Sudler-Smith likes to read, play guitar, bend time, and play tennis.
I have met no one who will admit to knowing these people,
So, let's see what they've got to say:

If you want to see the rest of the gang in their lairs: Go Here
Huh, that's probably why I didn't see these kids on their bikes or their skateboards twenty or thirty years ago. They didn't live here. To be honest, one would be hard pressed to spot ole T-Rav on his bike downtown. He didn't live here.
So one has to ponder why Thomas would whore himself to appear on this show, he's still got money and his house. He wasn't selling cocaine, he was giving it away as party favors, so there was no enterprise corruption. He's doing as well as a man can in this world.
This may give you a clue:
Honestly, Thomas. Do you honest to Christ believe anyone is going to buy your bullshit? I say this as both your cousin and your friend. I am delighted at your successes and I have winced at your failures. Your family has been close to mine for seven generations.  I don't think I have been judgmental.
But let's get the facts straight, Bud-Ro. If you want to pick a fight with someone, don't do it with the City Paper. I would argue that more people under 40 read the city paper than the Post and Courier. And when you decide you don't like what they have to say, you go on Facebook and threaten to buy the paper.
Did you not expect blow back?
So last summer the City Paper releases this story:
You respond: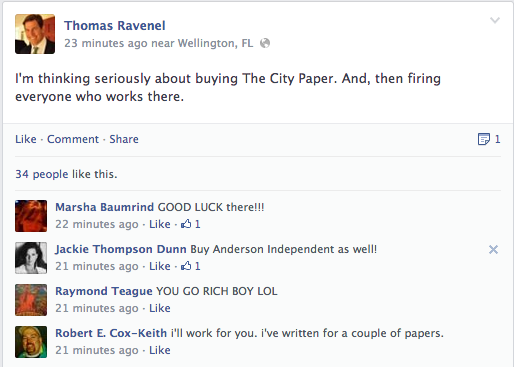 The City Paper responded:
Uh oh. It appears that the folks at the Charleston City Paper have gotten Thomas Ravenel's boxers in a bunch, because according to T-Rav's Facebook page he has his eyes on our paper and our good editor's behind. Yikes.
Earlier today, the polo-playing, Southern Charm starring, DUI-getting, paternity-test teasing, cocaine-snorting Cuz-spawn had this to say:
And this:
Thomas "Southern Charm" Ravenel wants to buy City Paper & spank our editor. Love ya, T-Rav. http://www.charlestoncitypaper.com/HaireoftheDog/archives/2014/01/24/southern-charms-thomas-ravenel-considers-buying-city-paper-wants-to-spank-our-editor … pic.twitter.com/uXaAtnqeog
They are even having a party in your honor!!!
Look, Thomas. Go away. Old Charleston is mortified. Most of your family is aghast. Have enough class to gently into that good night. Marry that girl and go be one of the beautiful people.
Your daddy has so much class. He started from nothing, the hard scrabble depression farm kid who rose to have his name on his crowning achievement.
He understood one thing, one cannot buy graciousness, one can only accede to it.
Good luck with your new found fame and notoriety.